I have been doing some hand embroidery every night for years. I love the design from Indygo Junction's "Stitched Style" book.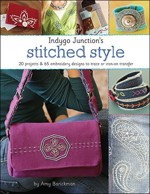 It has 20 great hand projects that are easy and hip. They are a modern take on the 70's which I love.
I have used several of the designs from this book for various projects, but one of my favorites is this little business card holder. I use it everyday!
I started by printing the design on Sulky Stick 'n Stitch and grabbing a spool of Sulky 12 wt. cotton.
Just stitch through the Stick n Stitch.
When you are finished stitching, wash the Stick n Stitch away, stitch up the card holder and you are ready to go.